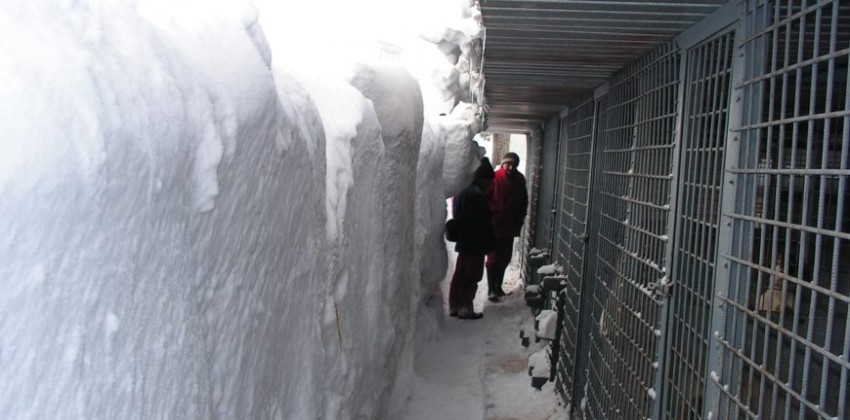 Winter makes victims and dogs are not an exception
Romanian winters are extreme cold, with heavy snow storms, when temperatures reach -30 °C (- 22 °F) often during nighttime and sometimes even during daytime. When this happens, everything, including the traffic, is completely paralyzed, which makes difficult supplying the shelters with food and medicines. The team is forced to walk by foot to the shelter located on empty, open fields. Walking against the snow storm is a challenge, you have the impression that you don't advance and as soon as your legs freeze, you are in danger to simply fall and die in the snow. Your face is completely red, painful each time you feel the wind blowing, you can't even blink because of the ice from around your eyes ,you simply can't see where you step , going down in snow one meter tall.
This is how ROLDA team reaches the dogs from shelters, every winter morning: Sundays… Official holidays… Christmas…our priority is the same as it is every other day of the year: to look after the dogs in our care.
The snow lies thick on the ground a lot of the time. If there's been a fresh fall, the staff will have to start Christmas Day by digging pathways so that we can reach every kennel. Clearing snow and ice from 600 meters of pathway is backbreaking work. But we have to do it, because we have to check on every dog's welfare.
When we first open the enclosure, we hope that all the dogs are alive and there hasn't been a fight during the night. So many dogs are disturbed because of the way they have been treated, that trouble occasionally flares up. If it has, we inspect the dogs for any wounds that need treating.
After many years, the team is experienced enough to evaluate emergencies simply looking in each dog's eyes and observing their body' language.
"One of my biggest fears is that a day will come when I will be no longer able to feed my dogs. They are not 1 or 10…I could handle that. They are 650-700 dogs, all beautiful, loving and special, all in search of attention, love and good care, after a lifetime of suffering on the streets. They all depend on me and I would rather die than see them suffering again. I made a promise to each of these dogs, the day they came in our shelters, that nobody will hurt them, ever again. Help me keep this promise!" said Dana Costin, founder of ROLDA.
Before winter comes, when the Nature challenges us the most, we ask for your help. We need to raise the provisions of high protein food, enough for hundreds of dogs that are dependent on us. Apart from that, we appeal to your generosity for an extra supply of food for the extreme poor pets from the village and for the packs of hungry dogs from the industrial site, located near our shelter.
The dogs from industrial location are skinny, full of internal parasites, with skin problems and other health disorders. They are the first victims of the coming winter.
Every 1 $AUD represent a high nutrient dog meal.
Donate 1 $AUD to provide 1 meal for 1 dog.
Join ROLDA FoodRaiser and help us make a provision of food for dogs before the weather severely deteriorates. We didn't set a goal for the provision campaign but any extra left will go toward the Christmas campaign which all our supporters are waiting.
Every little counts. There is no small donation because even 1 $AUD feed a dog once…and for that particular dog, your donation makes a big difference!
"This year was very challenging for me and ROLDA charity. The stress and worries reached the highest limit in many occasions but only cowards give up. Before the big shelter was started, I was asked by a local VIP if I am aware of the "consequences" and the amount of work that I seem ready to commit for the years to come. I never hesitated and looking back, I have no regrets. Working with animals and running a charity is a valuable lesson in life. One I am grateful I can handle, each year, with the help of ROLDA generous supporters and friends. Thank you for giving me this opportunity and please, let's feed some animals together" concluded Dana.
Kick the tin for a good cause!
Bank account
Account name: ROLDA Inc.
BSB: 032-515
Account number: 337936
Bank name: WestPac
Send a check
ROLDA
PO Box 5919
Brendale DC
QLD 4500